You are here
Citizenship, Naturalization & Civic Engagement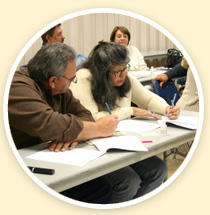 HUF's Civic Engagement program provides high-quality citizenship classes with qualified teachers, a curriculum approved and recommended by the USCIS, small classes and convenient class schedules. The Civic Engagement program assists clients with the preparation for the naturalization process, including one-on-one assistance with the N-400 form (citizenship application), the citizenship interview, legal advice and referrals.
---
Classes in Miami-Dade & Broward
New! Click here for classes in Miami-Dade.
In the last decade, HUF has assisted more than 12,000 individuals to become U.S. citizens in South Florida – And we're now expanding our Pathways to Citizenship Program in Miami-Dade to help permanent residents prepare for the citizenship interview! The classes are free and available at several libraries across Miami-Dade.
For classes in BROWARD, please click here.
---

Impact
Served 3,000+ clients throughout Broward (at HUF & Broward County Public Libraries) yearly  
Close to 1,000 clients passed their Naturalization test and became US Citizens
Recipient of a two-year grant from the United States Citizenship and Immigration Services (USCIS)
BIA (Board of Immigration Appeals) Certified by the United States Department of Justice
State-of-the-art technology includes tablets and a SmartBoard to facilitate the learning process   
Contact us for Citizenship instructors volunteer opportunities (training provided): (954) 964-8884 ext. 266 or ext. 216.
---
Pre-Registration Form
To complete the Citizenship Services Pre-Registration Form for both Broward and Miami-Dade: Click here.
---
Community Partners
Legal Aid Service of Broward County: provides high quality free civil legal advice, representation and education to the disadvantaged of Broward County.  Visit their website for further information: www.legalaid.org/broward/
The New Americans Campaign: More than 80 organizations across the nation have already assisted thousands using these interactive web-based screening and application preparation tools on CitizenshipWorks as a part of the New Americans Campaign, a national nonpartisan effort working to streamline and modernize access to naturalization assistance services.
Univision: In this comprehensive website, you will find basic and important information about the Citizenship process and tips on how to have a successful interview, as well as the latest news about immigration reform.  For more information go to: http://noticias.univision.com/inmigracion
Broward County Public Libraries: Citizenship classes are provided at different Libraries located throughout Broward County. Classes are for free and open to the public all year long except holidays. For more information visit http://www.broward.org/library. Click on our link to get the schedule of HUF Citizenship classes.
Civic Engagement Client Stories

Important Civic Engagement Links