You are here
Unity 4Teens/Middle School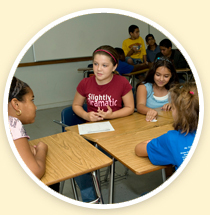 Unity 4Teens (U4T) is a year-round program – after-school and summer –for at-risk middle school age youth. U4T serves youth who attend Apollo, Attucks, Olsen and McNicol Middle Schools. The program has been designed to provide education and enrichment activities to help students attain academic and social success, reduce risk behaviors and learn skills so they may grow into self-sufficient, productive adults. Students learn life skills, explore career paths, develop leadership skills as they participate in the Youth Voice and develop critical thinking skills at their unique Chess Club.
U4T is a youth development program that strives to achieve the following:
strengthen protective factors by helping youth develop resiliency, a positive outlook, healthy family dynamics, pro-social relationships with peers and adults, positive decision-making skills, strong community attachment, and academic success
reduce risk factors related to teen pregnancy, delinquency, substance abuse, family dysfunction, mental and physical health problems, negative peer associations, and school failure.
Daily Academic Services help youth improve their grades, review classroom material, and learn valuable study habits. Enrichment Activities provide essential life skills training, expose youth to fine arts and cultural activities, and educate them about being part of and giving back to the community. 
U4T's signature Case Management services help youth set goals, establish individualized plans to achieve those goals, connect youth – and their families – to essential services and provide follow-up to ensure youth needs are being met

How do I register my son/daughter in the Middle School/Unity 4Teens program?
If your teen attends Apollo, Attucks, McNicol or Olsen Middle School he/she is eligible to participate in our after-school and summer programs.
To enroll in the program, please contact us at 954-342-0293 to schedule an appointment with the intake specialist.
NOTE: Please make sure to bring the following to your appointment:
Student: Report card from previous school year and birth certificate; Parent: Copy of Driver's Licence.
REGISTRATION FORM:
Please contact the intake specialist at 954-342-0293 to obtain the Account Name and Password to access the registration form below.
Click here to access the Registration Form
Impact
Unity 4Teens serves an average of 550 students per year
76% of youth improved their school grades or attendance
100% of youth maintained a clean record while enrolled in the program;
85% of youth decreased negative patterns of behaviors and 100% of participants did not become pregnant or cause a pregnancy  
Offered a six-week summer program that served more than 300 students
Community Partners: Broward County Public Schools & City of Hollywood
Key Program Partners:
This program would not be possible without the support and leadership of:
| | | | | | | |
| --- | --- | --- | --- | --- | --- | --- |
| |    | |    | |    | |
|   |   |   |   |   |   |   |
| |   | |   | |   | |
|   |   |   |   |   |   |   |
| |   | |   | |   | |
|   |   |   |   |   |   |   |
| |   |   |   |   |   |   |
|   |   |   |   |   |   |   |
Unity 4 Teens Client Stories
Important Community Links
Middle Schools Information:
Local Colleges and Universities