You are here
English Classes (ESL)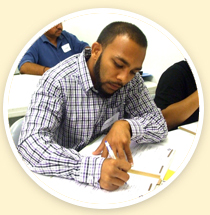 The English for Speakers of Other Languages (ESOL) program prepares students to communicate competently in English in appropriate situations and perform in the skill areas of listening, speaking, reading, and writing, with equal value placed on each. The length of the program is based upon the study needs of each student.
The ESOL program is for adults 18 and older, to learn more go to: www.BrowardCommunitySchools.com
All teachers are professional educators certified by Broward School Board in ESOL instruction.  They are ready to assist you after a placement test (CASAS) which will determine your level of English proficiency. 
At Hispanic Unity we offer seven levels of English classes. 
HUF's English Classes take place at our Casa Sanjuan Education Center at 5811 Johnson Street Hollywood, FL 33021.  For more information about ESOL, call (754) 323-9015 or (754) 323-1150
Impact
Between 1,000-1,200 students annually learn English at HUF's campus.  Most of the attendees are from Latin America and the Caribbean.  Most of our students hail from Colombia, Venezuela and Cuba.
Literacy assistance:Reading and writing skills assistance are provided to students from certain countries. (Please discuss at time of registration.)
Degreed Professionals: Approximately 38% of our clients hold post-secondary degrees and HUF ESOL classes are their springboard to rebuilding their professional lives in the U.S.
ESL Client Stories
Community Partners:
Key Program Funding Partners:
Broward County School Board
Ana G. Mendez University System
Other Important Links
Broward Educator: - Learn about English Classes throughout Broward County; Get your high school diploma or GED; Pursue a technical career or; Find a hobby, sport or other activity.  To get GED Diploma you must sign up for ESOL Classes.