You are here
Legal Assistance & Immigration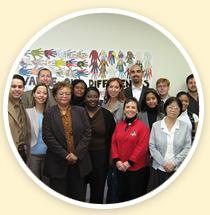 Hispanic Unity works as an outreach center for Legal Aid Service of Broward County, Inc. which provides FREE legal assistance to low-income families. Services are provided every Thursday from 9AM-12pm.These free services are provided by a Paralegal in English and Spanish. The Paralegal makes an assessment of the legal issue and determines the client's eligibility for their services.
Connect to Legal Aid Service of Broward County for a comprehensive list of services provided by this non-for-profit agency:   http://www.legalaid.org/broward/
Immigration
Hispanic Unity partners with Catholic Charities Legal Services of Broward County, a not-for-profit organization that provides legal assistance to families. Services include: completing immigration forms, such as Naturalization (N400), Application for Residence(I-485), work permits, Petitions I-130 (spouse-children, parents) among others. They also provide consultations with immigration lawyers at low cost.  Fees may apply.
Hispanic Unity is now Board of Immigration Appeals (BIA) recognized and able provide expanded naturalization services in English and Spanish.
Citizenship Services & Prices: Please call HUF for information
Broward Legal Immigration Program (BLIP):
BLIP [Broward Legal Immigration Project] held its first FREE Immigration Clinic at Hispanic Unity's Casa Sanjuan Education Center.  BLIP is a project led by Legal Aid Service of Broward County, Inc., Catholic Charities Legal Services, Broward Hispanic Bar Association and Hispanic Unity with partners including the Caribbean Bar Association.  Manny pro-bono attorneys and law students also actively participate in the program.
Impact:
Registered participants: More than120 Tri-County individuals received FREE 30 minute consultations last year from a team of volunteer attorneys, legal staff and supervised law students.
More than 25 Lawyers and Immigration students donated time.
More than 35 volunteers served during the event.
Clients have been served in four languages (English, Spanish, Haitian-Creole, and Portuguese)
Community Partners
Legal Aid Service of Broward County, Inc., http://www.legalaid.org/broward/ Services include: Children Advocacy Project / Housing, consumer law /special projects
Catholic Charities Legal Services: http://www.miamiarch.org- Services include: Completing immigration forms and consultation with immigration lawyers.
Broward Hispanic Bar Association: http://www.browardcountyhispanicbar.com include: Lawyers referral services.
Caribbean Bar: http://www.caribbeanbar.org/: working in both the public and private sectors and practice criminal law, civil and commercial litigation, administrative law, family, immigration
The United States Citizenship and Immigration Services: www.uscis.gov
Key Program Funding Partners
 -All the work has been done on a pro bono basis through volunteers donating their time and talents
Pro Bono Attorneys and Staff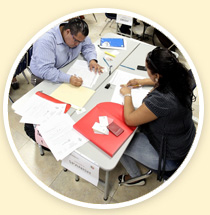 Larry Marin, Esq.
NaidaAlcime
Hon. Madeline García
Marie T (Monique) Kanzki
Marjoto Levy, Esq.
Cherine Smith, Esq.
Joy E. Rothenberger, Esq.
Veronica Panov, Esq.
Cecilia Carolina Maluje, Esq.
Alexandra Marcoux, Esq.
Denise Mendez, Esq.
Audrey Glover-Dichter, Esq.
Juan Carlos Arias, Esq.
Xiomara Hernandez, Esq.
Michael Guevara, Esq.
Liliana Jurado, Esq.
Lauren Gilbert, St Thomas University
Isabel del Cid Castillo, Esq.
Elizabeth C. Pines, Esq.
Marjoto Levy
Alexandra Marcoux
Denise Mendez
Jack Wallace,Esq.
Isabel Castillo, Esq.
Sam Youn, Esq.
Maria Parjus, Esq.
Gina Harris, Esq.
Carmen Cuetos, Esq.
Cristina Casabianca, Esq.
Legal Aid  Service of Broward County Inc., Staff and Volunteers
Kimberly Zaffere
Kathleen Thomson
Yasmin Jacob, Esq
Paola Ramirez
Joseph Keenan
Arlene Rivera
Medare Vilfort
Mercedes Colon
Lizette Pierre
Melisa Malone
Maria Gonzalez
Gioia Russo
Sean X. Foo
Gabi Ferraris
Marta Ferrar
Catholic Charities Legal Services
Randy McGrorty, Director and Esq.
Jose Quintero, Esq.
Jordan Dollar, Esq.
Callan Garcia, Esq.
Antonette Russell, Esq.
Edith Leonardo, Esq.
Myriam Mezadieu
Sister Cecilia Chen, Esq.
George Francis
Cassandra Suprin, Esq.
Hispanic Unity of Florida
Magaly Alvarado
Josie Bacallao
Angelica Hernandez
Victoria Pinilla