You are here
Unity 4Kids
HUF's Unity 4Kids Preschool is Nationally Accredited!
Hispanic Unity of Florida's (HUF) Unity 4Kids Preschool recently received the National Early Childhood Program Accreditation (NECPA) designation from the National Accreditation Council and Commission. 
Unity 4Kids is one of 20 NECPA certified preschools in Broward and 1 of 5 serving the South Broward region. 
---
Contact Hispanic Unity 4Kids Preschool & VPK 
5840 Johnson Street
Hollywood FL, 33021
Email ycarusi@hispanicunity.org
Call: (954) 342-0405
Mission of Unity 4Kids
The Mission of the Unity 4Kids Preschool Program is to provide children with the skills necessary to succeed in school. The Early Learning Center accomplishes this through a high quality, dual-language program with an emphasis on self-discovery, literacy skills and parent involvement as well as, family support services.
Unity 4Kids (U4K) Preschool and VPK was developed by Hispanic Unity of Florida to provide children of low-income families with early literacy and school readiness services. Unity 4Kids is a licensed and certified early childhood education center offering a literacy-enriched environment  - in dual language - to instill a lifelong love of learning in the youth served.
The culturally competent program adheres to the highest academic standards and curriculum in a state-of-the-art facility while providing opportunities to increase parent involvement in their child's academic success. U4K provides them with the tools to be ready to learn when they enter school,  while maintaining affordable,  accessible childcare for low-income families.
Program Impact
Results: 90%+ of the children achieved significant gains in communication, personal and social problem solving, fine motor and gross motor skills (target: 75%)
5-Star Rated Preschool program (Early Learning Coalition)
Served several low-income families 
Graduated 50+ preschoolers to Kindergarten from 2013 to 2017
Family Strengthening Program
Parenting classes l
U4K Preschool is a Family Central Positive Behavioral Support Program (PBS) Certified School
Outstanding parent engagement through Unity 4Kids PTA (Parent Teacher Association) 
Who we serve:
Low-income families primarily from south/southwest Broward (Hollywood, Pembroke Pines, Miramar)
Unity 4Kids Preschool Curriculum
The U4K program follows "The Creative Curriculum" framework.  Its goals and objectives revolve around development in four different areas:
Social and Emotional
Physical
Cognitive
Language Development
The classrooms are set up to enhance growth in all these areas through dramatic play, science and discovery, creative art, literacy, block play, "manipulatives" and music and movement.
Also, U4K follows the "Literacy Express" Curriculum designed for three- to five-year-old children. It is structured around units on oral language, emergent literacy, basic math, science, general knowledge, and socio-emotional development. Literacy Express approaches literacy with a comprehensive, integrated and active program that sparks the children's curiosity in the world around them. It provides professional development opportunities for staff; teaching materials; suggested activities; and recommendations for room arrangement, daily schedules, and classroom management.
Our Facilities
The culturally competent program adheres to the highest academic standards and curriculum in a state-of-the-art facility. The classroom is organized into learning centers that are well defined. The organizing of space and materials into effective Learning Centers has clear benefits to children. Children learn best by being engaged in active, hands-on activities, while having the freedom to make their own choices form a strong foundation for their future success.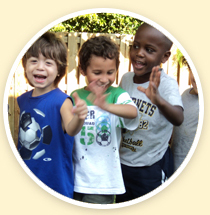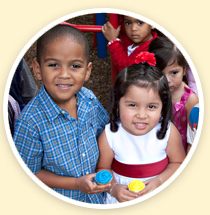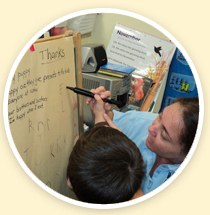 Hours of operation
7:30am to 6:00pm
Meals
Nutritious breakfast, lunch and mid-afternoon snack are provided by the Center at no additional charge. All meals are catered in and meet the USDA guidelines and are included in the weekly tuition.
U4K Client Stories
Want to Learn More about our Program?
Unity4Kids Preschool Directo: Yonela Carusi 
U4K successful Components: 
Family Literacy Events: Hispanic Unity 4Kids' Family Literacy Events provide Parents and children the opportunity of being engaged with new tools and ideas on how to accelerate their child's literacy development through a variety of activities.
Parent Education Sessions:  Hispanic Unity 4Kids' Parenting Education sessions assist parents in understanding the critical role they play in helping their children achieve success in school – and life.
Lending Library: Hispanic Unity 4Kids' Lending Library is a collection of more than 100 popular children's books. These books are available in English and Spanish to every family in the preschool. The books are part of a FREE lending library. Each book comes in a clear bag with an activity card. The activity card contains a list of tips and ideas for that book's story-related fun activities parents can do with their child.
Parent Teacher Association (PTA): Hispanic Unity 4Kids' PTA was created to support and enhance parental involvement in our Unity 4Kids Preschool Program, and to teach parents valuable skills on how to work together and advocate for their children.
VPK Program / FAQ's
What is VPK?
VPK stands for Voluntary Prekindergarten Education Program a subsidized early education program funded by Florida's Department of Education.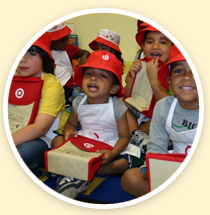 Is VPK offered at Unity 4Kids Preschool Program?
Yes.  U4K offers a VPK Program throughout the year: Fall VPK - 540 hours of FREE instruction in a Preschool setting. It runs from August to June, Monday to Friday from:
9:00am to 12:00 PM.
Includes:
540 instructional hours
Teachers degreed in Early Childhood Education
NO Registration fee to enroll in a VPK Program
Bilingual Program (English-Spanish)
High academic standards and curriculum in a state-of-the-art facility
"Hands-On" and "Minds-On" Experiences are promoted during the program
End of the year Graduation Ceremony
Who is eligible for VPK?
If you live in Florida and have a child who turns 4 years of age by September 1, your child is eligible for Florida's FREE VPK program
How do I enroll a 4 years old child in VPK?
For information on how to register visit Family Central Inc.'s website at www.familycentral.org or call at 954-720-1010.
You need to provide proof of residency and child's date of birth when registering.
You can come to our schools and we will help you to make the appointment.
How Can I Help?
U4K Wish Lists
Community Partners
Key Program Funding Partners
This program would not have been possible without the support of:
Supporters  
Gift by Steve Feig dedicated to Clayton Feig  
---
And Thank You to our special donors:                                                  
Program Parents  
School Board of Broward County                                                           
Tate Family Fund at the Community Foundation of Broward