You are here
The Jim Moran Foundation

 "…Hispanic Unity continues to provide meaningful, holistic support services to new families adjusting to our country, giving them the guidance and resources they need to become successful and engaged members of our community."  - Jan Moran, chairman and president, The Jim Moran Foundation 
The Jim Moran Foundation and Hispanic Unity History 
The relationship with Jim and Jan Moran precedes the founding of The Jim Moran Foundation when, in 1996, Hispanic Unity (HUF) received its first major gift as a $10,000 personal challenge match.  Once established in 2000, The Foundation awarded one of its first grants to HUF to enrich its academic after school programming. Since then, The Foundation has invested more than $2.3 million in grants to support the children and families served by HUF. 
The Center for Working Families 
In 2010, The Foundation awarded Hispanic Unity $900,000 to launch the agency's Center for Working Families program. This was the largest foundation grant in the history of HUF – until 2014 – when it awarded an additional $1,050,000 to fund the program through 2016.
"My husband, Jim, understood that in order to succeed in life, you had to work hard – but he also knew you needed the right opportunities and, sometimes, a helping hand along the way," said Jan Moran, chairman and president, The Jim Moran Foundation. "For more than a decade, The Foundation has partnered with Hispanic Unity because of their mission, heart and commitment to the families they serve. Through this second multi-year grant to support the Center for Working Families, we are continuing Jim's legacy by helping individuals and families prepare for brighter futures."
About The Jim Moran Foundation
Founded by automotive pioneer Jim Moran, the mission of The Jim Moran Foundation is to improve the quality of life for the youth and families of Florida through the support of innovative programs and opportunities that meet the ever-changing needs of the community. The Foundation has invested more than $45 million in education, elder care, family strengthening, after school and youth transitional living initiatives since its inception in 2000 -- with efforts currently focused in Broward, Palm Beach and Duval counties. Through a long-term Grant Agreement, The Foundation's significant funders are JM Family Enterprises, Inc., and its subsidiaries, including Southeast Toyota Distributors, LLC. It is located at 100 Jim Moran Blvd., Deerfield Beach, Fla. 33442. To learn more, visit www.jimmoranfoundation.org or call (954) 429-2122.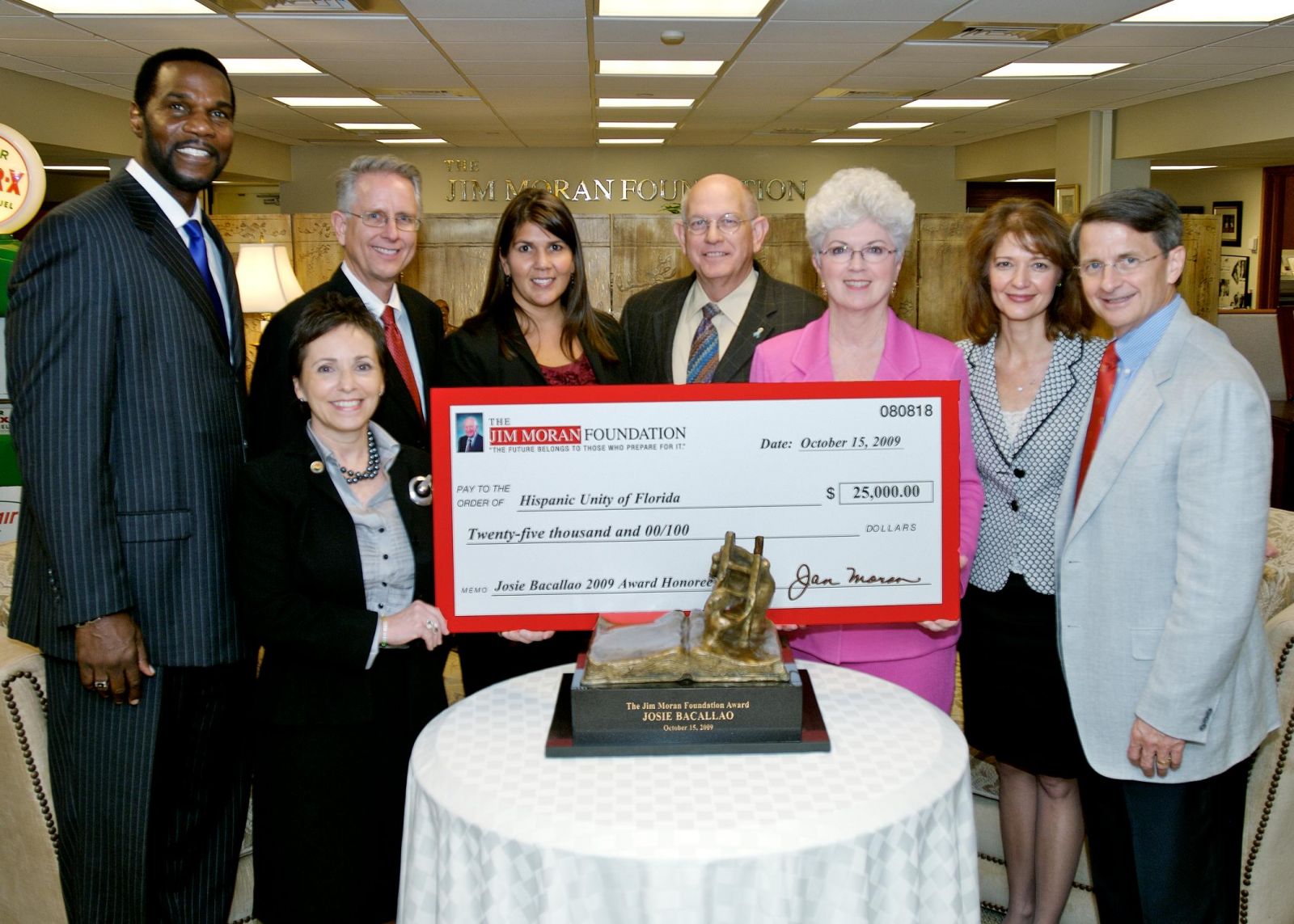 Jan Moran (front, right) presented Josie Bacallao (front, left) with The Jim Moran Foundation Award and a $25,000 check designated for Hispanic Unity of Florida in 2009. Joining them from The Jim Moran Foundation Board of Directors were (back, left to right) Irv Kiffin, Tom Blanton, Lucia Lopez, Larry McGinnes, Melanie Burgess and Rick Noland.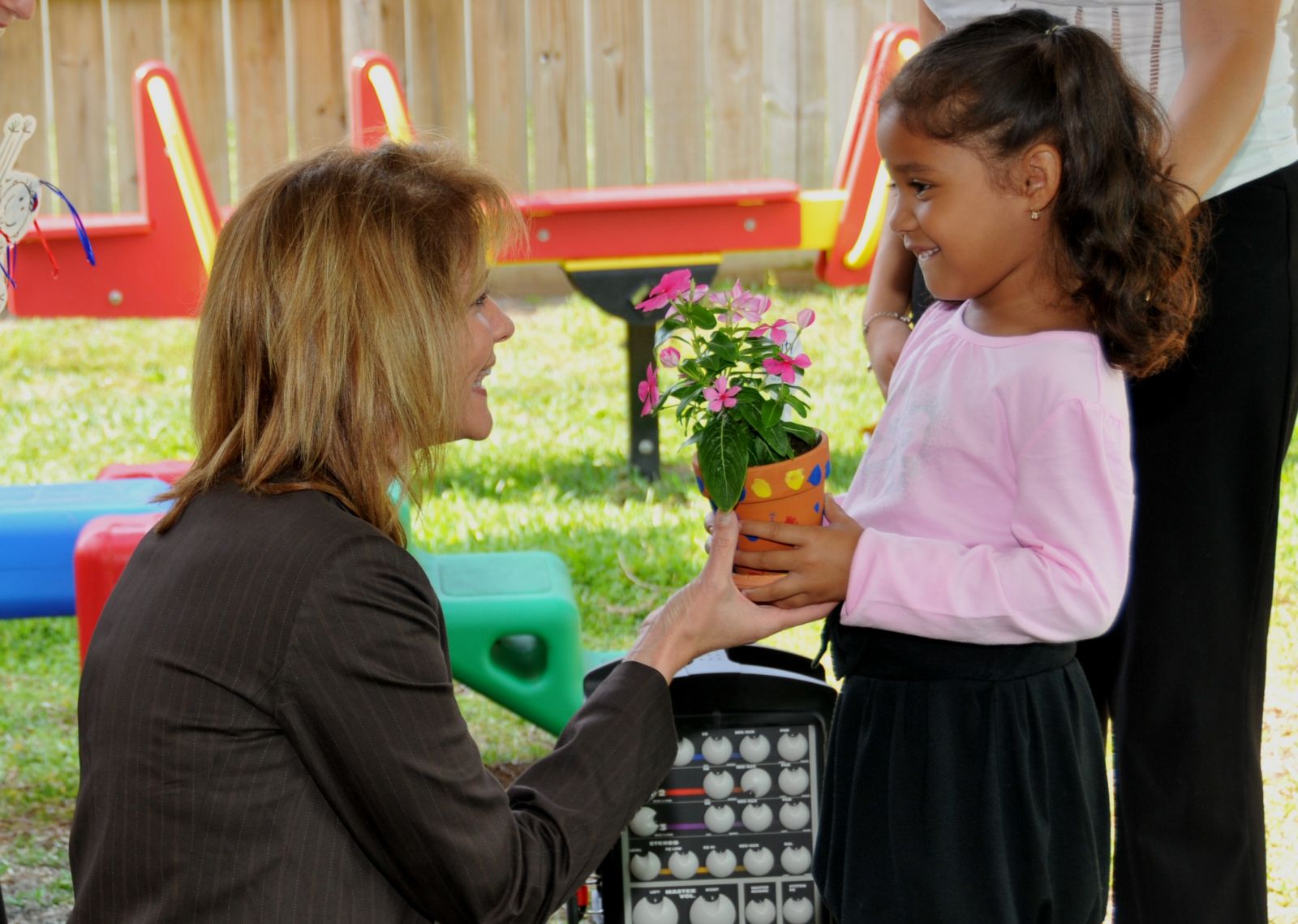 The Foundation made a significant two-year grant in 2008 which allowed Hispanic Unity to launch its licensed preschool. In 2009, Melanie Burgess was present to accept a small gift (a potted plant) from one of the preschoolers.