You are here
Unity 4Teens/High School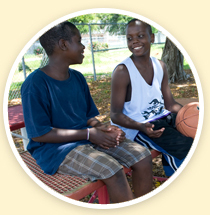 The Unity 4Teens (U4T) Youth Development program was initiated in 2011 in response to the growing need for structure, enrichment and mentoring opportunities for some of the most underserved high school age youth in Broward County.  U4T is a year-round program – after-school and summer – that provides structured academic and support services that foster positive youth and family development; create opportunities for educational outreach to students; offer cultural and recreational activities that empower and help students meet/exceed state accountability standards; provide enrichment activities to increase attendance and graduation rates; reduce substance abuse, teen violence, and teen pregnancy; and assist youth in developing the skills and abilities to successfully transition to post-secondary education and employment.
Key elements of our Youth Development approach are the following:
Families, schools and communities are engaged in developing environments that support youth;
Youth are involved in activities that enhance their competence, connections, character, confidence and contribution to society;
Youth are engaged in activities that promote self-understanding, self-worth, and a sense of belonging and resiliency.
Youth also sit on the Teen Leadership Coalition (TLC) which plans and assists in the implementation of program initiatives.
U4T serves youth who attend Miramar and Stranahan High Schools.
Impact
Youth development services to 400+ students at Stranahan and Miramar High Schools
60%+ of youth improved reading grades
59%+ of youth improved Math grades
69%+ of youth improved Science grades
100% of youth decreased external suspensions
Key Program Partners
This program would not be possible without the support and leadership of:
| | | | | | | |
| --- | --- | --- | --- | --- | --- | --- |
| |    | |    | |    | |
|   |   |   |   |   |   |   |
| |   | |   | |   | |
|   |   |   |   |   |   |   |
| |   | |   | |   |   |
How do I register my son/daughter in the Unity 4Teens (High School) program?
If your son/daughter attends Miramar or Stranahan High Schools, he/she may be eligible to participate in our after-school program. Please download and complete the registration form in its entirety, scan and submit the form to Blanca Gamez at BGamez@hispanicunity.org.
You may also fax the form to (954) 964.8646 attention: Blanca Gamez
NOTE: Completion of this document does not guarantee acceptance into the program. You will receive notification of your son/daughter's acceptance within five business days.
Unity 4Teens Client Stories
Scholarships for Undocumented Students
Thanks to Mayu, from Center for American Process, UWD and Gen Progress for compiling a list of scholarships for undocumented and DACAmented students.
Also, listed below are 2 other additional scholarships. 
Golden Door Scholars recipients who attend partner schools will receive funding to cover tuition (less other scholarships and small family contributions), room and board for a four-year degree. (Scholarship recipients who choose to attend non-partner schools will be funded on a case-by-case basis.) Golden Door Scholars will also have access to mentors, assistance in pursuing internships and other career-building opportunities. Please review the important information below prior to submitting your Golden Door Scholars application.
TheDream.US provides college scholarships to highly motivated DREAMers who want to get a college education but cannot afford it. Their scholarships will help cover your tuition and fees for an associate's or bachelor's degree at one of their Partner Colleges.
Important Community Links
High Schools Information:
Local Colleges and Universities