You are here
Health and Public Benefits
The Benefits and Health Services Team aims to reduce healthcare disparities and increase healthcare access for uninsured and underinsured families in Broward County. 

Impact:
4,000+ families have had access to SNAP (food stamp) benefits yearly
1,500+ individuals received Nutritional Education, tips to living a balanced lifestyle and increased consumption of fruits and vegetables
1,500+ individuals were provided with access to health insurance
Clients saved more than $1.4 million on health insurance premiums
Programs
Comprando Rico y Sano 
This program promotes nutrition as well as healthy preparation, shopping and eating habits.
Comprando Rico y Sano incorporates nutrition education and the SNAP (Supplemental Nutrition Assistance Program) together for the purpose of educating our clients on how to make health and financial-conscious choices when grocery shopping. Under this program, promotores de salud (community health workers) conduct charlas (small educational sessions), grocery store tours and cooking demonstrations to increase client knowledge about the availability and affordability of healthy foods. SNAP application assistance is also provided.
HUF hosts weekly charlas everyThursday at 10:30am. For more information, please contact Guillermina Degracia at 954-342-0425.
This program is made possible by NCLR (National Council of La Raza) and the Walmart Foundation.
---
Te Ayudo
HUF's Te Ayudo program aims to reduce healthcare disparities and increase healthcare access for uninsured and underinsured individuals and families. 
Health Navigators and Certified Application Counselors assist clients with understanding Affordable Care Act, navigating the Health Insurance Marketplace, selecting and enrolling in health insurance plan. HUF's Health Navigators also connect qualified individuals and families with Medicaid, Medicare, Florida KidCare, and other primary care services. 
Affordable Care Act: 
HUF Navigators can assist you with:
Completing a Marketplace application
Selecting and enrolling in a qualified health plan
Obtaining a 1095-A form to file Income Tax Return
Filing an appeal with the Marketplace
Understanding your health coverage options
For more information, please contact Eduardo Pineda at 954-342-0420 or Jose Santillan at 954-342-0406.
Florida Healthy Kids (KidCare):
The Florida Healthy Kids program offers affordable health insurance for every child up to age 18.
Primary Care Services:
Those who do not qualify for any federal or state health insurance may be referred for financial assistance through:
Broward Health
Memorial Healthcare Systems
---
SNAP/Medicaid (DCF):
Hispanic Unity of Florida is a Department of Children and Families (DCF) Community Partner.
HUF provides assistance with:
SNAP/Food Assistance (Food Stamps)
Medicaid
TANF (Temporary Assistance for Needy Families)
Clients can:
Submit an application or a recertification 
Access case information
Go through verification process
SNAP Assistance at Miami-Dade College 
Hispanic Unity is now partnering with Single Stop and Miami-Dade College to bring Health and Public Benefits services to Miami-Dade College!
MDC Students, family members, and other members of the community are welcome to access our services.
Where:       Miami-Dade College Interamerican Campus
                  627 SW 27th Avenue
                  Miami, FL 33135
Hours of operation:  Every Wednesday 10:00 a.m. - 4:00 p.m. No appointment necessary.
Services provided: 
SNAP and Medicaid Applications
Health Insurance Marketplace (Obamacare)
Comprando Rico y Sano Nutrition & Grocery shopping education
Florida KidCare/Healthy Kids
For more information, please contact Eduardo Pineda at 954-342-0420.
Referrals are also available. These services are at no cost.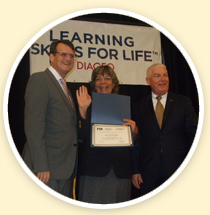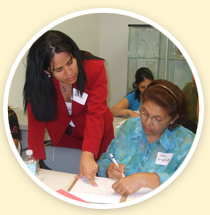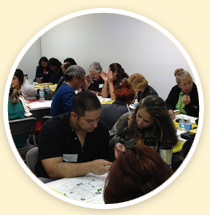 Key Program Partners
This program would not be possible without the support and leadership of:
Learn more about our partnership with AutoNation & Cancer Education
Through the support of AutoNation, HUF is able to share information about cancer and cancer treatment with its clients. In addition to the information below, please subscribe to our e-newsletter which includes information about cancer periodically. The information below is from the Sylvester Comprehensive Cancer Center (SCCC); to learn more, please visit their website at www.sylvester.org or www.sylvester.org/espanol.
What is Cancer?
Cancer begins with a growth or tumor. A tumor occurs when abnormal cells divide uncontrollably and form a mass. The tumor can be malignant (cancerous) or benign (noncancerous). The cells in this tumor divide without control or order, and they can invade and damage nearby tissues and organs. These abnormal cells can also break away from the tumor and enter the bloodstream or lymphatic system. That is how cancer spreads from the original (primary) site to other parts of the body (secondary sites). The process is called metastasis. Half of all men and one-third of all women in the U.S. will develop cancer during their lifetimes, according to the American Cancer Society.
Types of Cancers
The Sylvester Comprehensive Cancer Center (SCCC) treats a variety of cancer types, including: Bone & Soft Tissue Sarcomas; Breast Cancer; Colorectal Cancer; Eye Cancer; Gynecologic Cancer; Head & Neck Cancer; Leukemia, Lymphoma & Myeloma Lung Cancer; Melanoma & Related Skin Cancers; Neurological Cancer; Pancreatic & Liver Cancers; Pediatric Cancer; Prostate, Bladder & Kidney Cancers; Stomach & Esophageal Cancers; and Thyroid & Endocrine Cancers.
What Are the Risk Factors for Cancer?
Anything that may increase a person's chance of developing a disease is called a risk factor. Some risk factors, like smoking, can be avoided. Others, like inherited genes, cannot. The risk of developing most types of cancer can be reduced by changes in a person's lifestyle, for example, by quitting smoking, protecting your skin from the sun, being physically active, and eating a healthy diet. The earlier a cancer is detected and treated, the better the chances are for a positive outcome. It is important to know, however, that avoiding risk factors does not guarantee that a person will not get cancer. Conversely, a person who has one or more risk factors for a specific type of cancer will not necessarily get the disease.
How is Cancer Treated?
At Sylvester Comprehensive Cancer Center (SCCC), practitioners apply a targeted, site-based approach to treating cancer. This means that multidisciplinary teams of dedicated, board-certified doctors with expertise studying and treating specific types of cancer (based on the site where the cancer originates in the body) oversee care. This approach provides patients with state-of-the-art care from physicians who are not only cancer specialists, but sub-specialists in a particular type of cancer. Sylvester combines highly specialized, expert cancer care with state-of-the-art treatment technology. Our team of medical oncologists, radiation oncologists, surgeons, and radiologists work together – as a team – to determine the most effective approach for each patient.